63.05 GB
• Year: November 4. 2016
• Genre: Action
• Platform: PC
• Publication Type: Informal
• Language: English
• Crack: RELOADED
• Operating System: Windows® 7+ (only64-bit)
• Processor: Intel Core i3-3225 @ 3.30GHz
• Memory: 8 GB
• Hard drive: 72 GB
• Video Card: NVIDIA GeForce GTX 660 / AMD Radeon HD 7850 | 2GB, DirectX 11
Infinity Ward, the award-winning studio that helped create the blockbuster Call of Duty® franchise, reaches new heights with Call of Duty: Infinite Warfare. At its core, Infinite Warfare returns to the roots of the franchise where cinematic, immersive storytelling takes center stage as told through an unfolding large-scale war and epic battles that deliver an authentic Call of Duty experience.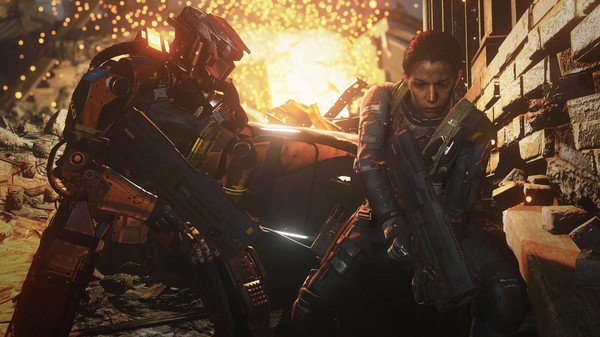 Call of Duty: Infinite Warfare delivers something for every Call of Duty fan with three unique game modes: Campaign, Multiplayer, and Zombies. Delivering a rich and engaging narrative in a setting unlike anything to date in a Call of Duty game, the campaign is a return to the franchise's gritty, military roots throughout new environments never before seen in the franchise.


The player will embark on a classic war story about grand scale naval warfare; all set in a grounded future where human conflict has spread throughout our solar system. Multiplayer action combines Call of Duty's popular chained-based movement system with ground-breaking gameplay innovations to deliver the deepest and most engaging Call of Duty experience to date. The title introduces stunning, never before seen, multi-planetary environments, new weaponry, and all-new player abilities to Call of Duty. In addition, the new Zombies experience will thrill co-op players with an original, direction featuring fun and unique gameplay, all wrapped into an uproarious narrative sure to excite fans.
Weapon models also failed. Developers have tried to strike a balance between the futuristic and realism in favor of the second. As a result, we have a nice pistols, submachine guns, shotguns and various rifles, which are different from today's trunks for the most part of the design. But there are also unusual options, which I will discuss below.
The demo had two maps available. First - Frontier - located inside the space station. For wide portholes could see the rest of the blocks of the metal object and the endless depths of space.
Decorations are made in a stylish white and brightly illuminated by fluorescent lamps that illuminate the interior details, cast realistic shadows on the floor and walls. Different parts of the locations are differentiated by color moldings and unique images on the walls of compartments, so do not feel that you run in a monotonous corridors - always clear where you are.
The structure of the two-story cards and the most dense. Rooms and narrow passages and small size are created to accelerate the pace of the game. The users have to constantly move and not stand still. In the center - a long corridor defined in some places large boxes and passages in other areas, so players always have a chance to escape from the shots behind the nearest object. The ground floor is darker and is separated from the top of staircases and floors - in fact it is an alternative way to go around the location.